---
SAFETY IS ALWAYS PRIORITY
The health & well-being of our customers and colleagues continues to come first. As we work to best serve our communities, you may experience long wait times reaching our offices and receiving your orders as we are operating only two days a week. Thanks for your patience & understanding.
Who is Svelte 30?
Our mission is to promote awareness, education and care through optimal homeopathic and naturopathic healthy living. Our goal is to bring transformation and balance to your body, mind and spirit.  Through this journey together, let us discover a plan of revitalization, rejuvenation and restoration to a happier and healthier you.
Services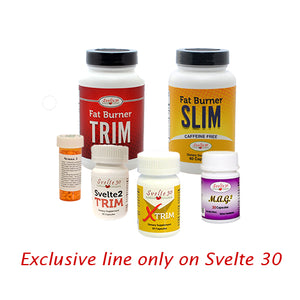 Many of Svelte 30 signature products contain a mixture of key ingredients technically proven to assist weight loss, safely suppress appetite, increase the basal metabolic rate (BMR), and melt excess body fat. There are very few, if any, natural supplements derived from the highest quality herbal plants that produce such amazing results within 4 weeks (one month) without any side effects or contraindications. Svelte 30 weight loss products are designed for those who need to lose 30 pounds or more. Works great for men and women.
Shop Collection Now