---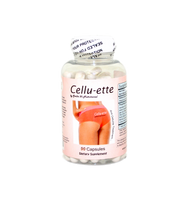 Cellu-ette: The Exclusive Natural Solution for Cellulite 😍
Do you want to get rid of cellulite and have smooth and firm skin? If yes, then you need Cellu-ette, the exclusive natural solution for cellulite. Cellu-ette is a special formula that is only available at Svelte 30 Nutritional, the leading provider of natural health products. Cellu-ette helps you prevent and reduce the appearance of cellulite in just 3 months. You will see and feel the difference in your skin texture in as little as 4 weeks.
Cellu-ette is made with 100% natural ingredients that work together to target the root causes of cellulite. Some of its active ingredients are:
🍃 Uva Ursi: A plant that helps flush out excess water and toxins from your body
🍵 Camellia Sinensis: A tea extract that boosts your metabolism and burns fat
💎 Magnesium Citrate: A mineral that improves blood circulation and oxygen delivery to your skin
🌸 Hydrangea Root: A herb that reduces inflammation and swelling in your tissues
Cellu-ette is safe, effective, and easy to use. Just take one capsule three times a day with a glass of water and follow a healthy diet and exercise routine. Add Cellu-ette to your cart today from Svelte 30 Nutritional and say goodbye to cellulite forever.