---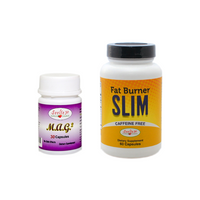 MAG2 is our NEWEST formula that helps fat loss.  It also supports proper digestive functions and provides the sensation of feeling full.
Description
Supports proper digestive functions
- Helps burn calories steadily and in a short time
- Helps increase resistance when performing a physical activity
- Helps regulate glucose levels in the blood
- Hunger management is a complex chemical and hormonal phenomenon.
Fat Burner SLIM helps to control appetite, stimulate body to naturally burn fat calories, and increase energy.
This product has been richly formulated with the best natural and effective ingredients.  A complex, effective formula to help burn calories and increase energy.
For maximum results, as with any other weight loss product, Fat Burner SLIM should be used in conjunction with a well-balanced diet and regular exercise.
Ingredients
Proprietary Blend
Chromium (as Chromium Picolinate), Glucomannan, Seed Powder, Bitter Orange, Chitosan, Hoodia Gordonii Stem Extract.  Daily Value not established