---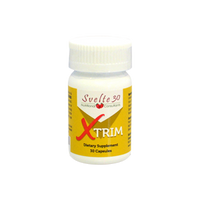 X-Trim: The Exclusive Fat Loss and Digestion Support 😍
Do you want to lose fat, improve your digestion, and feel full? If yes, then you need X-Trim, the exclusive fat loss and digestion support. X-Trim is a special product that is only available at Svelte 30 Nutritional, the leading provider of natural health products. X-Trim helps you achieve your weight loss goals in a natural and effective way.
X-Trim is made with 100% natural and powerful ingredients that work together to help you:
🍃 Support your digestive functions with

 

Artemisia Dracunculus,

 

Centaurea Benedicta, and

 

Psyllium Husk Extract, which aid in digestion and detoxification
🔥 Burn calories steadily and in a short time with

 

Citrus Aurantium,

 

Green Tea Extract, and

 

L-Carnitine, which boost your metabolism and fat oxidation
💪 Increase your resistance when performing a physical activity with

 

Jiaogulan

 

and

 

Siegesbiecka Plant Extract, which enhance your endurance and stamina
🍽 Regulate your glucose levels in the blood with

 

Crocus Sativus

 

and

 

Taraxacum Officinale, which help balance your blood sugar and reduce cravings
X-Trim is safe, effective, and easy to use. Just take one capsule twice a day with a glass of water and follow a well-balanced diet and regular exercise. Buy X-Trim today from Svelte 30 Nutritional and get ready to see amazing results.